Your Comfort is Only Three Steps Away
memphis heat pump repair
Benefits of a Heat Pump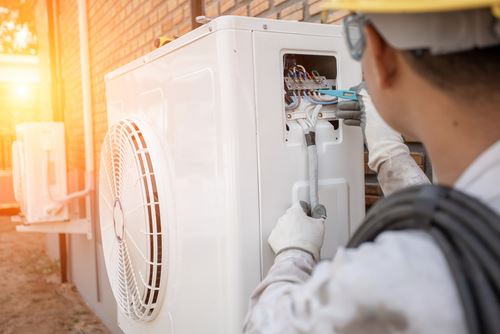 There are many options for heating and cooling your home. Heat pumps are popular for a number of reasons. A heat pump offers both heating and air conditioning in 1 unit, which is a significant advantage to buying separate heating and air conditioning systems. This is the most energy efficient way to heat homes in areas of the country with relatively mild winters.
Heat pumps offer advantages that include:
Providing both heat and air conditioning
Less maintenance required
Emergency efficiency
Quiet operation
Better indoor air quality
Safety is another benefit of using a heat pump to warm and cool your home. There is no safety concern with using an electric heat pump, compared to the risk of using natural gas for furnaces. In addition, because gas is not used in these systems, there is no concern about a gas leak and fewer emissions, which is beneficial for health and the environment.
Heat Pump Installation
When choosing a new heat pump for your home, there are important things that should be considered. One is the capacity of the system. It is important to choose a system that is properly sized for your home and has the capacity needed to provide reliable performance and optimal efficiency. The energy efficiency rating is another important factor to consider to get the most from your investment and save on heating and cooling costs.
We can help you consider the options that are available for your home, including the size of the system, energy efficiency ratings, and price. We offer free estimates for heat pump installation, and financing is available to help make your new heat pump work with your budget. Our technicians will make sure your new system is installed for optimal performance.
Heat Pump Repair & Maintenance
If your heat pump is not turning on or not warming or cooling your home sufficiently, we offer professional heat pump repair and installation in Memphis to solve virtually any problem with your system. Our qualified technicians are available for same day repair service. Additionally, we offer repairs after hours and on weekends at no additional charge.
We have found that many common heat pump problems could have been prevented or minimized with regular maintenance service. Maintenance helps to improve efficiency, reduce breakdowns, and maximize equipment life. We offer a maintenance plan that provides 2 visits per year and many other benefits for plan members.
Related Blog Articles:
If you are considering installing a heat pump or need repair service, call (901) 295-4434 to set up an appointment.
PUTTING OUR CUSTOMERS FIRST
Satisfaction Guaranteed

We always stand by our quality work and we won't be satisfied until you are!

On-Time Service or It's FREE

Our AirMasters are committed to punctual service and promise to be on-time or your service is free.

Emergency Services

We are available for 24/7 emergency services, at the same honest price, and without additional fees.